About Us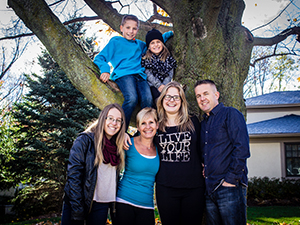 In 1976, after years of working at the management level in the steel and wire industry, Endel Toop made the decision to strike out on his own. Endel and his wife, Annette, began E. Toop Fences Ltd. With Endel in charge of quoting and installations, and Annette managing the office, they provided consistently excellent customer service and quality installations, quickly building a reputation with homeowners, landscapers, pool companies and homebuilders as the company to call when you wanted something done properly and on time. Over 30 years later, Endel and Annette's daughter, Tania Toop-Darke (me!), and their son-in-law, Rich Darke, are continuing this tradition.
While I have worked for E. Toop Fences since I was a little girl, first cleaning trucks and sweeping out the warehouse and eventually helping with both installations and office work, Rich joined the company as a summer student in 1992. Although both Rich and I attended teacher's college after graduating from McMaster University, when we became engaged, Endel approached Rich with the offer to continue to work in the business and eventually become his successor. We seized this opportunity. While I spent some years teaching, sharing the office management with my mom, Rich worked alongside Endel, learning all he could about products, installations, and the fence industry. In the year 2000, I "retired" from teaching after the birth of our first baby, and Endel and Annette officially handed over the reins of E. Toop Fences to me and Rich.
In the years since we have taken over running the company, we have added three more children to our family, but have not changed much with how the company is run. It remains a small, family-owned and operated business, with only trusted full- and part-time employees. Many customers have asked us why we don't expand, but expansion would compromise the whole philosophy of our company. Like my dad before him, Rich quotes each job, schedules the installations and is present on each job site, along with our employees, who are also like family to us. Most of our employees remain with us for years, and many of our summer students return year after year. E. Toop Fences has never used sub-contractors for our installations as we want to continue to ensure the integrity of our work.
Our reputation has been built on word of mouth, and it is our goal to live up to the high standards set by my father. We are honoured that he has entrusted his namesake to us and we are determined to continue to make him proud.
Sadly, we lost my dad in January, 2014 and though he is deeply missed by all of us, we know his legacy will live on in his children, grandchildren, and the business that bears his name.